People Insight
A re-vamped proposition, website and content strategy for People Insight
Back to work
The challenge
People Insight needed a new website 'to sex up employee surveys and wow prospects.' The key challenges with the existing site were a corporate, impersonal and inconsistent look and feel, a poorly communicated proposition and recently, conversions had been on the decline.
People Insight had a good understanding of their audience and felt that it was important that the new website communicate the tech side of the business effectively, ensuring their platform could compete with other similar providers in the market. However, this couldn't be done at the expense of the consultancy side of the business. People Insight's tech capabilities, expertise in trained organisational psychologists and excellent customer service all needed to be effectively communicated to our prospects.
The approach
Think held a brand planning workshop to revisit and tweak the brand proposition in line with where People Insight wanted to be. The existing personas created by the business were used as stimulus in the workshop to hone in on audience needs and behaviours. A competitor audience highlighted the gaps we needed to own and review of the credible claims People Insight could make help shape our differentiators. The result was 'Spark change with the most actionable employee surveys' and a brand wheel that outlined the brand values, personality and TOV. This would act as a compass for the website redesign and content strategy development.
In planning the website it was important we considered the needs of our three audience types who were looking for simple and intuitive tech, speedy responses and expertise in designing their survey. We performed an extensive content audit to understand how the current website performed and where the gaps were in meeting these needs. The resulting site architecture and content hierarchy was designed to present People Insight as tech forward, but with an exceptional level of customer service and employee engagement expertise behind the tech.
In developing the content strategy we identified that People Insight already performed well for employee experience and employee survey related terms, however employee engagement needed to work harder, with diversity and inclusion and wellness in the workplace also key topics for our target audience. Our content strategy for launch centered around building authority for these key terms and developing rich, interlinking blog posts focused on long tail keywords (matching search intent) surrounding these topics.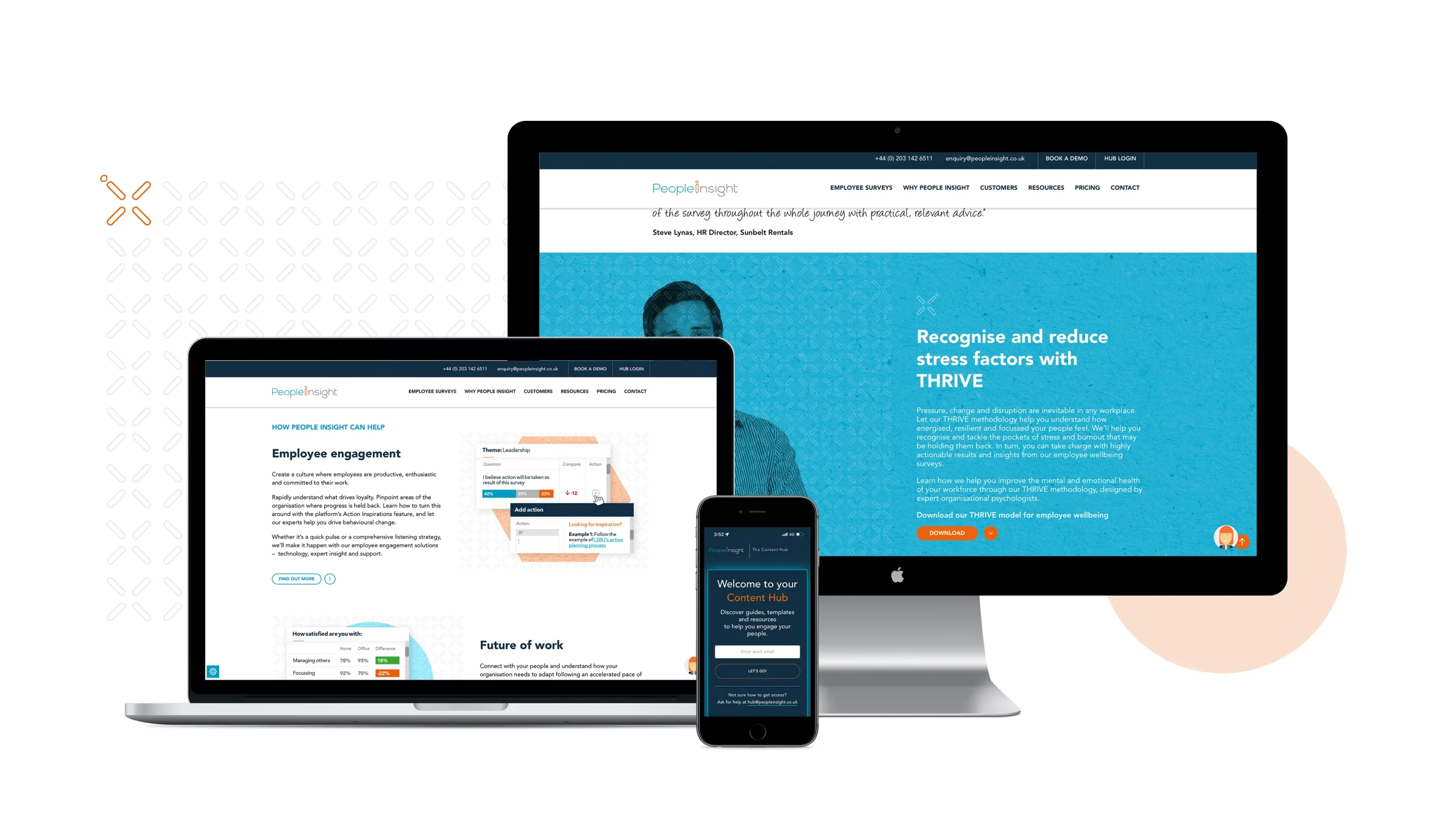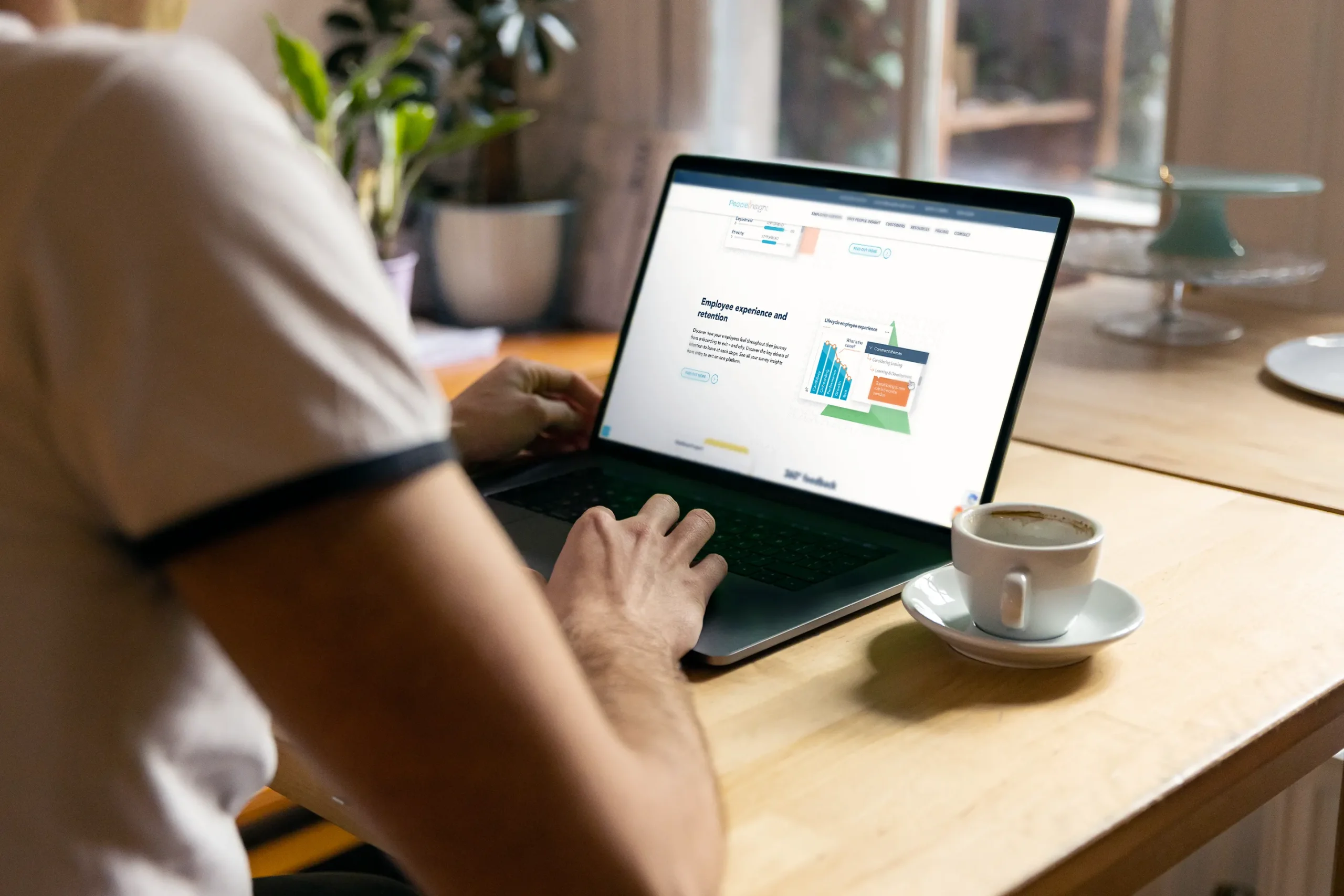 The results
The website went live in August 2021 and in the two months since live we have seen a reverse in the decline of organic traffic with a growth of 15% month on month. Engagement stats across the board have improved including a 98% increase in bounce rate and 207% increase in pages per session.
The feedback from the business has been extremely positive and ultimately the business has seen an increase in enquiries through the website. Think continue to work with People Insight on a monthly basis to develop new content strategies and provide SEO services.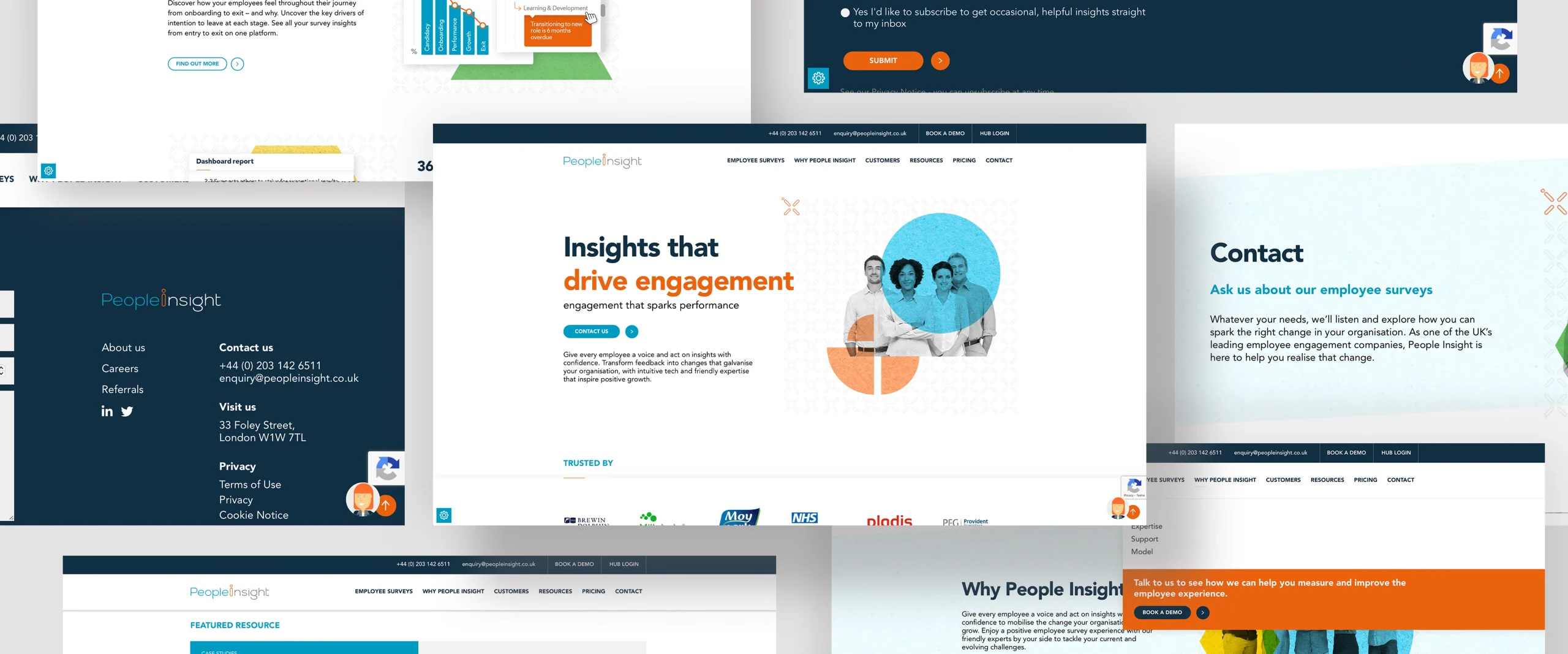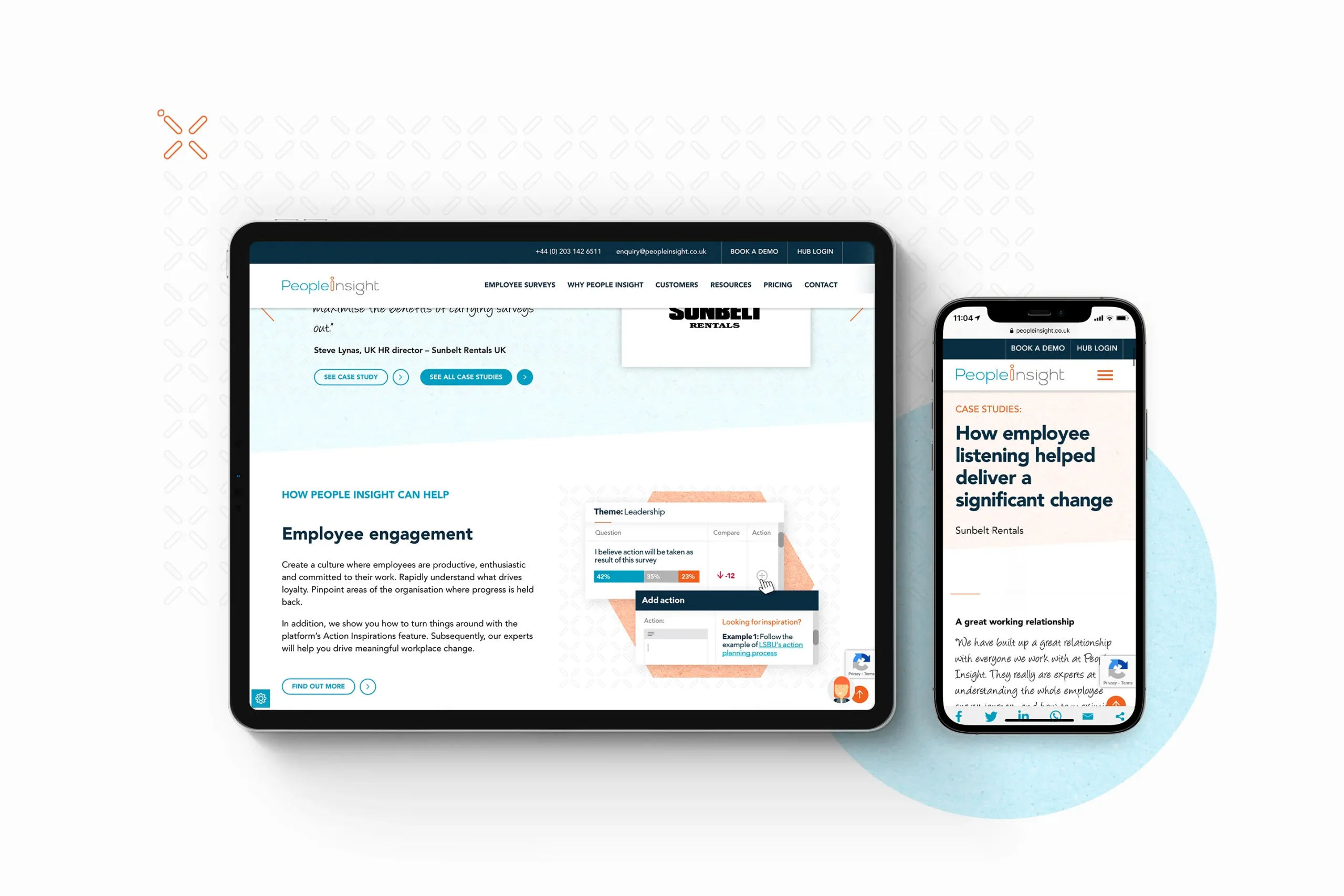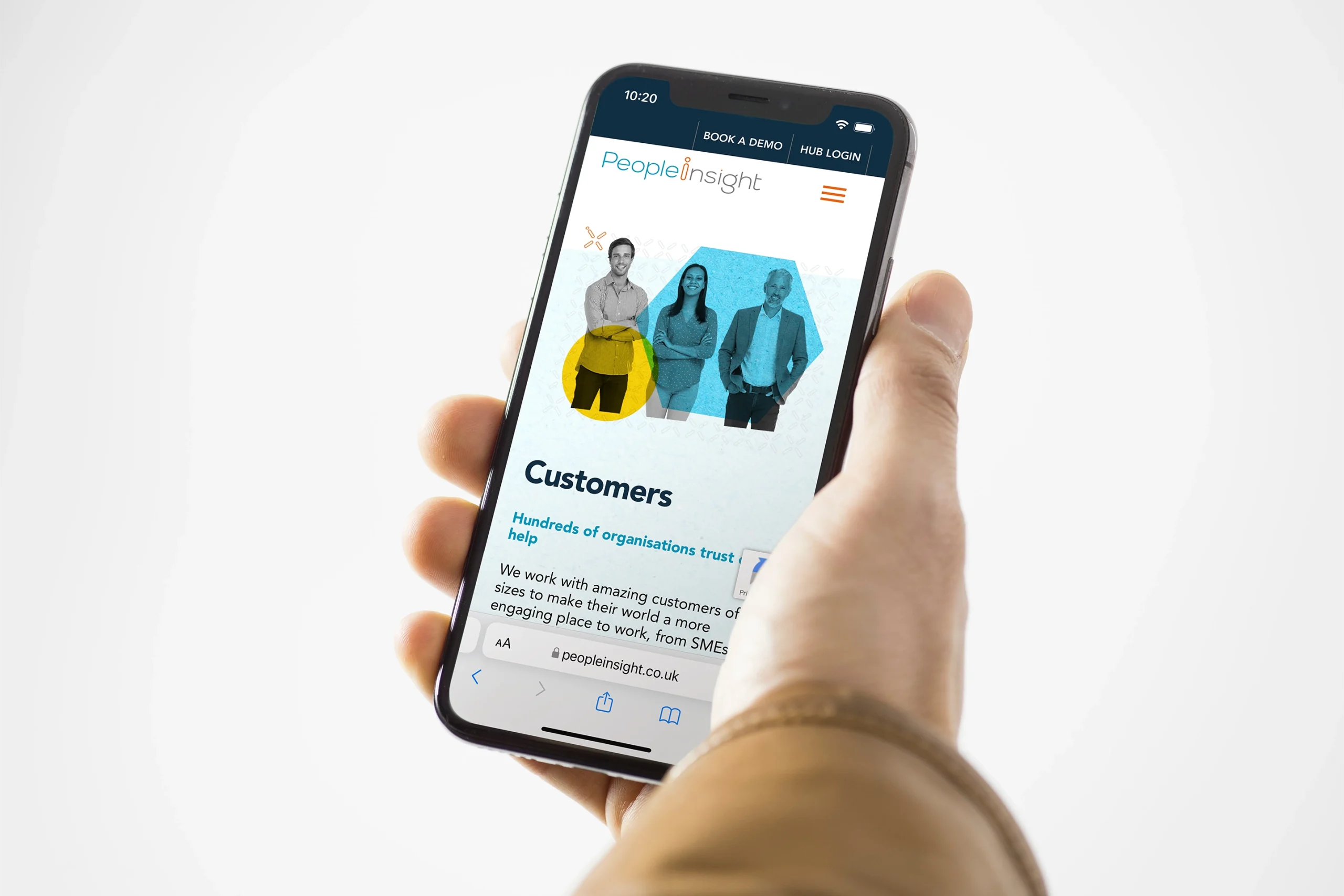 "I love how thorough the setup for our project was. The initial brand refresh brought in some great experts, strategic thinking and really helped us to evolve our positioning. The team are easily accessible and a pleasure to work with. The CMS behind our new website is super intuitive. All the snagging since we went live has been sorted efficiently. I'm really pleased with the outcome."
Carolyn Nevitte, Marketing Director, People Insight